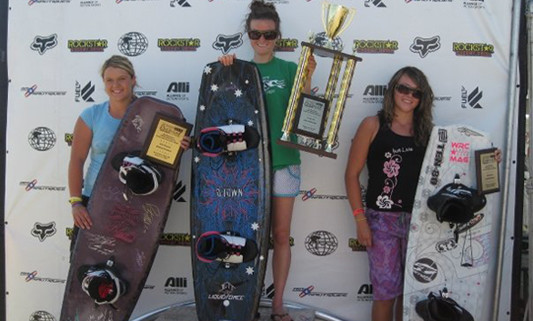 There is nothing to be nervous about, riding in tournaments is a lot of fun and will teach you what you need to practice to take your riding to the next level. An understanding of a few basic concepts can give you the competitive edge.
Preparing a trick pass
The standard tournament format is two-thirty second passes and one wildcard trick at the end of your second pass. When you're preparing your run, I think it's better to put your easier tricks at the beginning of the pass, so that you can adjust to the wake and towboat speed. Practice your passes with a stop watch in the boat to alleviate the feeling of being rushed, and not getting all of your planned tricks in at the tournament. Have your spotter time your pass; ideally you want to have all 5 or 6 tricks completed in 25 seconds. Consistency is the key tournaments, if you fall on a trick in practice, get up do that trick 3 times in a row.
How you are scored
The three areas that the judges will score your pass are: Difficulty of tricks landed, Intensity, and Variety of maneuvers. Try not to repeat any of your tricks, and go big. It can be difficult for the judges to decide who should win when everyone does similar tricks, but if you can do your stuff a little bigger than the next rider, you'll win. If you fall on a trick, chances are it was probably one of your harder moves, so show the judges that you can land it, and try it again.
Taking advantage of the course
Most tournaments will allow one out of course fall, so while the boat is getting set up to enter the course test the wake with a few jumps and let the driver know if the speed is alright. There will be a start buoy and an end buoy in the course. Make sure that you are set up outside the boat wake and ready to cut in as soon as you pass the start buoy. It's very common to see riders enter the course with out being ready, and then only being able to get two or three tricks in. If you stand up your pass and still have room in the course, stay busy and do some extra tricks to bump up your Variety score.
How to get involved
In the midwest we have several different series of tournaments that start in early May and continue through the end of August. The Midwest Mission to ride, American Wakeboard Association, National Wakeboard League, and Hyperlite all have grassroots events throughout the state. They are all great events and a great value. For more information check: mm2r.com, americanwakeboard.com!
http://wakeboardingcamp.com/wp/wp-content/uploads/2015/01/tournament.jpg
400
533
admin
http://wakeboardingcamp.com/wp/wp-content/uploads/2013/04/GBWC-Main-Logo-small.png
admin
2015-01-08 14:26:51
2015-03-02 03:14:39
Tournament Tips